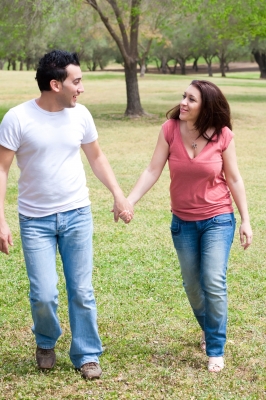 I have been noticing a theme lately: couples put everything else before each other—work, children, email, cell phones, housework.  And the Couple is down at the bottom of the list.  Now I understand sometimes work and kids HAVE to come first.  But it should not be like that every day.  Some days the Couple has to come first.  Some days emails, work and phone calls can be put off to later.
* It's OK to say to the kids: "You go play in the other room.  Mommy and Daddy are going to talk for a little while."  Then take a few minutes to catch up on your day away from each other.  Talk about the things that are important or interesting to you.  Listen to your partner about what is important and interesting to him or her.  Pay attention.  Ask questions.
* After the kids go to bed, don't focus first on the housework that needs to be finished.  First pay attention to each other.  Catch-up; touch each other.  Trust me, the laundry and dishes will still be there in 30 minutes.
* Find a trustworthy babysitter and go out together.  Do something that you both enjoy without the children.
* Designate a 30 minute period each evening to ignore the cell phones, emails, and turn off the TV.  Focus on your partner.  Touch each other.  Laugh.
Make the Couple a priority in your life.