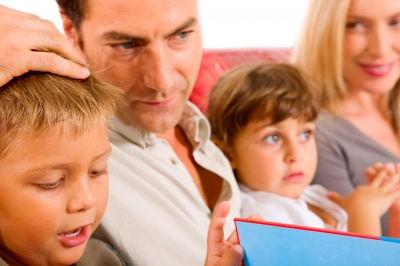 Relationships are never simple. Balancing two people's needs, wants, desires, and hang-ups are challenging. When you throw parenting into the mix it is even more complex.
One of the biggest challenges that couples face when they become parents is figuring out how to take what they learned from their parents about what to do (or what not to do) and meld it with someone else's ideas that they took from their own parents. Suddenly there are not 2 people involved anymore, but 6. One couple and two sets of grandparents. And if you are lucky you are only dealing with the issues you brought from your childhood and not grandparents trying to "contribute" on the day to day affairs.
What types of food. How much TV. Type of school. Should he or she play sports? Which Sports? How to handle peer influences. Discipline. Discipline. Discipline.
All of these issues can throw a wrench into the lives of a relatively happy couple. When there are already issues in the relationship, parenting just highlights them even more. The most important thing to do is to sit down with each other after the kids are in bed and talk about it calmly.
"How are WE going to handle […]?"
"What are WE going to do about […]?"
"I feel that it is important that WE […]."
Notice that all of these sentences have an emphasis on the couple. The WE. It is not, "I don't like it when you […]" or "You need to stop doing/saying […]". Parenting is a partnership. Even if the parents are no longer partners, it is healthier for the children if they are parenting together and using the same techniques rather than fighting over each and every move.
Read books. Talk to other parents about what they do. Talk to your child's teacher about what he or she suggests (this person has seen and dealt with more behavioral issues than you ever will).
Try not to be defensive. Don't view it as a criticism. You are working together to parent and you can each draw on your partner's strengths to make up for you own weaknesses.  None of us are perfect and we all make mistakes when it comes to parenting. What is important is that we see that these are mistakes and try to rectify them and change.  Forgive yourself.  Forgive your partner and find new ways of handling frustrating situations.
You are raising a person.  You want this person to be a happy, healthy, decent, and loving individual.  And for that to happen you need to be as happy, healthy, decent and loving as you can be.  To your child, to your partner, to yourself.