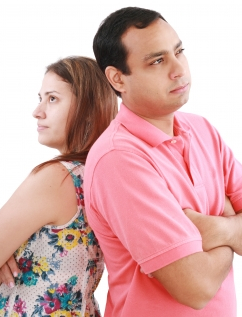 Here are the top 5 6 ways to get your partner to do what you want:
1. Know exactly what you want. This is critical. If you don't know what you want, then how can your partner? It is important that you know what you are asking for and to be able to be specific. Telling him to clear the table after dinner may lead to a pile of dishes on the kitchen counter. Is that what you really wanted? Or did you also want them to be rinsed and put in the dishwasher? If that is what you want, then you need to say that. "Can you rinse the dinner dishes and put them in the dishwasher while I get the kids in the bath?" You will find that you have a greater likelihood of getting what you want if you spell it out. Don't assume that she knows what you mean.
2. Be reasonable. No one can give you the stars, no matter how you ask or how much they want to give them to you. Ask yourself, "Is this something that she can really do? Is this something that I would be willing to do?" A good way to get a gauge of how reasonable your request is to ask friends. They will naturally be inclined to take your side, but be open with them about how you really want their opinion. And then be open to hearing that maybe you are being a little unreasonable. It may sting at the moment, but might save you from a huge fight, resentment and sleeping on the couch.
3. Pick the right time. If you ask in the middle of the show that he has been waiting all week (or year) to watch, you are likely to be shot down. If you pick a moment when the kids are screaming, dinner is on the stove, and you just walked in the door, you are also not going to get the response you want. Pick a time when there are no distractions. When there hasn't been evidence of a bad mood. When the kids are in bed and after she has had a moment to put her feet up. Before you get into bed and are about to turn off the light. No one can think clearly or be open to requests when they are exhausted and stressed.
4. Ask nicely. There is a reason your mother always told you to ask nicely. You get more of what you want than when you demand and yell. Also be aware of the tone you are using. I cannot count the number of times I have heard form couples, "It is not what he said. It is how he said it." Ask yourself, "How would I like him to ask me to do something?" Then use those words and that tone.
5. Be willing to negotiate. There are just some things that we are not willing to do. We have to respect this in the people we love. Allow him to say, "You know, I really want to watch the Super Bowl next Sunday. Would it be possible for us to have lunch with your mother the week after?" Or, "You know, I never feel like I do a good job with the dishes. Would it be OK for you do to them, and I will start getting the kids into bed?" Then consider the request and if it seems reasonable, take it. Or you can negotiate other terms.
……..
I know that it is traditional for most lists to have 5 or 10 items.  Nice, neat numbers.  But I had to add the following.  It is so critical.  And so controversial.  But it does work.
6. Do what your partner wants you to do. I can already hear the protests, "But I want her to do what I want! This is not about me doing what she wants!" However this is probably the most important way to get what you want from your partner. If you are always saying no, refusing to go along with his plans, having to be the one in charge, then how would that make him or her more likely to do it again. Instead, you are likely to get, "I always have to do what you want! What about what I want?" This will probably lead to anger, resentment, yelling and no one being happy. If you are willing to give in sometimes, then she will be more likely to give in too and do what you want.
There are no guarantees, of course.  But if you follow these guidelines, you might be suprised with the positive response.