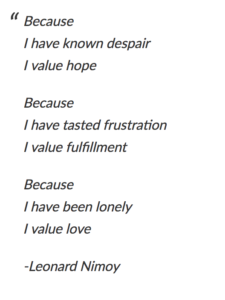 I was inspired to become a therapist by challenges in my own life…
I have known sadness and grief; fear and frustration. I have worked hard to nurture feelings of joy, hope, contentment, and well-being.  My goal is to help others who are struggling. I want to help you to explore the obstacles in your life, discover ways to overcome them and to find a path to your own place of hope and joy.
I've always known that I wanted to help people by being a therapist.  I received extensive training and experience in psychotherapy utilizing a strengths-based, biopsychosocial systems model through my study of clinical social work.  I have been a Licensed Clinical Social Worker since 2004 (CA LCS21970), and have worked with children, teens, adults, and seniors in a variety of settings since beginning my career.  When I started my private therapy practice in 2004, I was a generalist and focused on whatever my clients needed.  Then I began to see a theme emerge – people needed a safe place to talk about the role of sex within their intimate relationships. Three years later, I began taking classes toward building my knowledge base around sex and sexuality.  In 2012, after completing more than 150 hours of continuing education in human sexuality and sex therapy and meeting a number of other requirements, I became a Certified Sex Therapist through the American Association of Sexuality Educators, Counselors, and Therapists (AASECT).  My therapy practice has since evolved to focus on working with individuals and couples on improving the relationships in their lives, with an emphasis on sexual relationships.
I still work with whatever my clients come in with, whether that be relationships and sex, work, parenting or caregiving, depression, or anxiety, to name a few of the infinite varieties of struggles that people face in their lives. However, thanks to this wide range of educational and work experience, I have unique insight into the issues that impact people of varying ages, genders, sexualities and lifestyles, their partners, and chosen families. I work with those who are LGBQA+, intersex, gender expressive and transgender, monogamous and nonmonogamous, and kinky.
All relationships. All genders. All people.
In addition to my therapy work, I have been an adjunct instructor of Human Sexuality and Psychology of Women at Glendale Community College since spring 2020. I am also a long-time volunteer with and sit on the Board of Directors for Planned Parenthood Pasadena and San Gabriel Valley.