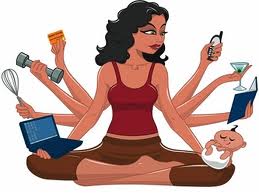 One of the things that seems to be a consistent challenge today is figuring out how to juggle all of the responsibilities that come with living in our 21st-century world.  In trying to take care of our families' emotional, physical, financial and spiritual needs, we are consumed with work, picking up and dropping off kids at school and extracurricular activities, dinner, homework, and a million more things.  This is hard enough when we have a partner, but made even more complicated if we are single-parenting or our spouse regularly travels for work.  With all of this chaos it can be nearly impossible to find time for ourselves and our intimate relationships.  How do we ask all of this to stop so that we can take care of ourselves?
And yet we have to.  We have to make the time to take care of ourselves.  When I was in school, I heard my professors say over and over again, "You cannot take care of others if you are not taking care of yourself."  And I believe that this is true for all of us.  We are not truly effective parents, employees, or partners if we do not stop to take care ourselves.  This means that maybe you lock yourself in the bathroom so that you can take a hot bath in peace once or twice a week.  Or perhaps you have a Girl's Night once a month.  Or start running again (or whatever your exercise of choice is) and be sure to schedule that a few times a week.  Similarly we need to take time to nourish our relationships.  Maybe include your partner in that bath.  Or get a babysitter for date night.
While sometimes it can feel overwhelming to add "one more thing", the payoff is so worth it.  You feel more yourself.  You remember who you are and why you do everything that you do.